This is my second entry into #SABH, with a theme Death By Chocolate, hosted by the lovely lady behind from Hungry Australian, it was simply too irresistible! My mind kept on ticking over, thinking of what I would cook, I always new there would be a minimum of two recipes.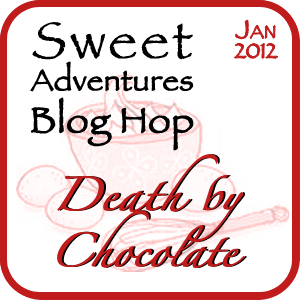 http://hungryaustralian.com/2012/01/15/death-by-chocolate/
The first was the Chocolate Strawberry Bites, which took three attempts and three variations of the original recipe to get it right, but I am happy to say I was pleased with the end result!
So for my second entry I had decided on making chocolate macarons. I had eaten a mango macaron only very recently and loved the texture. I thought how delicious would a chocolate macaroon be, the combination of textures is what makes the macarons so delightful. The first place I went to find a chocolate macaron recipe to use as a base was
Taste
, here is the direct link
http
. ://www.taste.com.au/recipes/21975/chocolate+and+lemon+macaroons
I slightly adjusted the original recipe to suit my needs, and to be honest what was in the kitchen. Generally I was happy with the macaron recipe but not with the filling. It just didn't match up with the Death By Chocolate Theme. So I put my thinking cap on and I came up with a Baileys and Chocolate Buttercream icing, much nicer. Baileys is such a nice combination with chocolate and buttercream icing seemed like the perfect match.
This dessert is very delicious but as it contains alcohol that is not cooked, the alcohol content still remains, thus this is a dessert for adults. It is always wise to inform your guests that there is alcohol in
the dessert, so if they are drinking and driving, at least you have informed them and it is then their choice up to how many of these delicious macarons they eat!
Chocolate Baileys Macaron's
Ingredients:
360g icing sugar
200g ground almonds (I used almond meal)
40g cocoa (the original recipe called for Dutch cocoa, I used Nestle cocoa and it was fine)
5 egg whites (eggs need to be at room temperature, this is REALLY important)
1/3 cup caster sugar (If you don't have caster sugar, put normal sugar in a bowl and use a stick mixer to blend to a finer consistency like caster sugar)
1 1/2- 2 cup of icing sugar
100g unsalted butter (slightly melted)
8-10 pieces of milk chocolate
1 tablespoon of hot water
Slug of Baileys (to your liking)
Method:
Sift the icing sugar, ground almonds, cocoa into a bowl. Using an electric mixer, whisk eggs until soft white peaks form, add caster sugar 1 tablespoon at a time, whisk until dissolved. Stir in the almond mixture (the mixture will be quite thick). Spoon mixture into a piping bag (this is the best option, for the best presentation of the macaroons), fit with a 5mm nozzle, pipe a small amount of mixture (about 3cm) onto a baking tray lined with baking paper. Using a wet finger, smooth out peaks and set aside for 1 hour. Preheat oven to 150 degrees Celsius, bake 2 trays of macaroons at a time, swapping trays half way through, cooking for a total time of 25 minutes (a good idea to set the timer at 12 minutes), or until firm to touch. Allow to cool and slide a knife underneath macaroons to remove from baking paper. You can store them in an airtight container for a week or until ready to assemble.
For the Buttercream icing, using a hand held electric mixer, mix butter, icing sugar, Baileys, hot water and mix, when mixed through, add the chocolate (melt in the microwave in 30 second intervals). Taste the mixture and add Baileys to your taste. Lay out macaroons, using a teaspoon, place buttercream icing onto the macaroon, then add another macaroon on top like a biscuit. Repeat this with all the macaroons. Place in the refrigerator to set, they taste even better after being left in the fridge for a day to let the tastes, blend together.
Hope you enjoy this delicious dessert.
Don't forget to like the Facebook page Mishaps and Mayhem of a Gluten Free Life, and follow on Twitter @MMOAGFL, these are both ways you can enter the competition to win a free e book, Good and Easy Eats by Kim Wilson, competition closes the 30th January. Goodluck